Doozo Restaurant | Monti area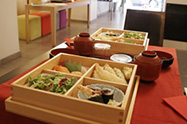 The Doozo Art Book & Sushi restaurant is an oasis of relaxation and a small wealth of Japanese culture in the center of Rome. Not just a Japanese restaurant, but also a tea room, a bookshop, an art gallery and a lively location for courses and events.
Walking through the room, very spacious and with minimalist furniture, you will have the unique feeling of a charming oriental atmosphere, leaving behind the chaos and greyness of via Palermo.
You can eat among shelves full of books, in particular manga, photos and Japanese objects, or in the open air, by candlelight, in a delightful, well-kept and cozy Oriental style indoor garden. The atmosphere is really lovely, you will be served with grace and courtesy and you will feel like you are far from the streets and the confusion of the center.
The protagonist of the restaurant is chef Endo Kazuhiko, who moved to Rome for Doozo's opening after many years of experience in Tokyo. You can choose various teishoku, or fixed-price menus, or you can order traditional dishes of Japanese gastronomy from the menu, which must be said, however, is not very varied. The food is definitely good, although, in our opinion, the flavors are not very engaging.
In the afternoon, Doozo turns into a quiet tea room, where you can taste excellent pastry. Choose the taste of Japanese sweets or a delicate green tea tiramisu.
Overall recommended for its uniqueness, its relaxingatmosphere and its excellentlocation in the heart of the Monti area.
All rights reserved © 2018
| (Last update: january 24 2018)
Doozo Restaurant:
Address:
Tel :
Email:
Site:
Lunch:
12:30 – 15:00
Dinner:
19:30 – 23:00
Closed:
Sunday at lunch – Monday
"The ingredients for a good cuisine? Soy sauce, sake, but above all love."
Endō Kazuhiko
Informations
Japanese cooks | yes
Outdoor garden
Library
Sale of objects
Sober and bright environment
Price | 25/60 €
Tea room |

Tuesday

–

Saturday

16:00-19:00
Book online
Credit card | Visa / Mastercard / A.Express