Sushisen Restaurant | Piramide area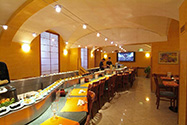 Known as one of the capital's best Japanese restaurants, Sushisen is the right place if you want to discover the flavors of Japanese cuisine in Rome.
Located in the Ostiense Piramide area, the restaurant is basic and welcoming. It has been recently renovated, but despite the very sober and pleasant location, the problem of excessive noise due to the high flow of customers has not been solved, especially at weekends.
The restaurant has two areas: one is a typical room where you can order à la carte, or rather, on the interactive Ipad menus on the tables, from which it is possible to clearly understand each dish. The other area has an always varied and well-stocked Kaitenzushi, the very heart of the restaurant.
The waiters are very kind and efficient and wear a nice uniform. The quality of cuisine is guaranteed by expert Japanese chefs.
The quality and variety are undoubtedly the strong points of the restaurant. The wide and excellent menu includes traditional dishes and several hot dishes.
The chefs have a remarkable creativity and every time we come back we find something new with very fancy and original combinations. The intensity of the colors of the fish will make your mouth water! In particular, in our opinion, salmon is extraordinary.
Kaitenzushi doesn't accept reservations and you may have to wait a bit before getting your seats. Even if the line is quite fast, it still creates a bit of confusion in the room.
The price is moderately high, but it is adequate to what the restaurant offers: pleasant location, fresh and well-worked fish, quality of raw materials and delicious flavors.
All rights reserved © 2023  | (Last update: october 25 2018)

Sushisen Restaurant:
Address:
Tel :
Email:
Site:
Lunch:
12:30 – 14:30
Dinner:
19:30 – 23:00
Closed:
Monday
The pictures in our restaurant are part of a collection about the most beautiful places in Japan, made by Kunihiro for our customers.

We have a special list of famous brands of Sake, including Hakkaisan and Kubota, imported directly from Japan.
Informations
Sushibar
Kaiten Sushi | Not bookable
Take away | Discount 10%
Japanese cooks
Sober and bright environment
Price | 25/60 €
Credit Card | Visa / Mastercard / A.Express