Hamasei Restaurant | Barberini area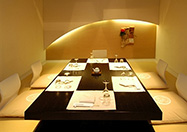 In business since 1974, Hamasei is the oldest Japanese restaurant in the capital. It is located in the heart of Rome, a few steps from Piazza di Spagna and Trevi Fountain.
The clean and essential lines of wood and steel give the restaurant an elegant and modern atmosphere. The restaurant is distinguished by its refined style and the professionalism and care of the staff, although it may happen some difficulty to understand each other with the waiters because of the language. The mood conveys great tranquility and discretion.
Nothing bad to say about the quality of sushi, well presented in refined dishes. The wide variety of choice is also excellent. We recommend tasting the many traditional Japanese dishes, especially the beef that literally melts in your mouth.
We recommend it for a special occasion, perhaps a romantic one, with the possibility of reserving private rooms. It is also possible to sit at the counter and watch the chefs preparing your dishes before your eyes, with considerable savings on the bill. We recommend booking.
The price is a bit higher than average, but it is absolutely suitable for the room, the atmosphere and the location.
All rights reserved © 2023 | (Last update: January 28 2018)
Hamasei Restaurant:
Address:
Tel :
Email:
Site:
Lunch:
12:00 – 15:00
Dinner:
19:15 – 23:00
Closed:
Monday
"Respecting tradition with the aim of offering a Japanese cuisine that Italians can love too."

"We are now on the Michelin Guide"

"The genuine Japanese cuisine"
Informations
Sushibar
Kaiten Sushi | Not bookable
Take away | Discount 10%
Japanese cooks
Sober and bright environment
Price | 25/60 €
Credit Card | Visa / Mastercard / A.Express