Sakana Sushi Restaurant | Ostiense – Rome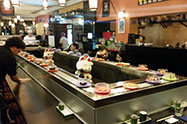 Rome meets the East in this excellentsushi restaurant located in Via del Gazometro, in the heart of the Roman nightlife in the Testaccio area.
The restaurant is basic, with an informal atmosphere and a little noisy. But don't let the appearances deceive you, the flavors of Sakana will accompany you in the best Japanese tradition.
The fish is fresh and of excellent quality – "only fish from the sea, not breeded" as the Italian / Japanese owners point out – and dishes are prepared with extreme care and precision.
The menu shows variety of typical dishes and quality, but if you want to discover some original flavors let the waiters recommend some interesting fusion dishes. On the other hand, the variety of dishes with kaiten is poor, but it is still possible to order it à la carte or to let the waiters recommend it.
In the style of the Sakana restaurant, forget the oriental sobriety and enjoy the informal and excellent service that will immediately make you feel at ease, even in your first experience in a Japanese restaurant. The waiters are really helpful and kind, generous with advice and explanations.
If you are tired of the many restaurants that badly mimic Japanese gastronomy and style, you can finally meet the Sakana Sushi that stands out for a genuine fusion between the East and the West, indeed between the East and Rome. 
We were amazed by its choice of style, perfectly in line with the Italian/Japanese property and with the location.
Recommended, good quality/price ratio.
All rights reserved © 2023 | (Last update: april 24 2018)

Sakana Sushi Restaurant:
Address:
Tel :
Email:
Site:
Lunch:
12:00 – 14:30
Dinner:
19:00 – 23:00
Closed:
Monday for lunch
Fish menu with raw and cooked fish, meat menu and vegetarian menu. It is possible to try the vegan sushi cuisine in line with the vegan diet.
Informations
Sushibar | yes
Kaiten Sushi | yes
Take away | bookable by phone
Japanese cooks | yes
Environment | Slightly chaotic
Price | 19€ – 48€
Booking |

only the table

Credit Card | Visa / Mastercard / A.Express