Hasekura Japanese Restaurant | Monti area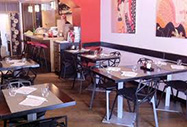 In the historic
Rione Monti
in the
center of Rome
, gradually approaching the
Colosseum
, halfway after the intersection with Via Panisperna, on the right side at 27 Via dei Serpenti, there is the
Hasekura restaurant
.
The restaurant was founded on
22 January 1994
by
Ito Kimiji
and
PalmaFranca
. The philosophy of the cuisine and the restaurant are enclosed in the words of Ito "Japanese cuisine has many rules,
but requires little explanation
. The best way to learn is to
watch a teacher
and imitate him". The trick of Japanese cuisine is to intervene as little as possible on food, the main work is to choose the ingredients. A good natural taste does not need to be modified.
Aesthetics plays a very important role
in Japanese cuisine. There is no order in the dishes, which are smaller and more numerous. There is absolute freedom of choice.
Hasekura Restaurant:
Address:
Tel :
Fax:
—
Email:
Site:
Closed:
Sunday / Monday lunch
One of the most famous Japanese restaurants in Italy, japanese Master Chefs cook both traditional and innovative cuisine. Recommended by the Gambero Rosso guide.
Informations
Sushibar
Kaiten Sushi | Not bookable
Take away | Discount 10%
Japanese cooks
Sober environment
Price | 25/60 €
Credit card | Visa / Mastercard / A.Express